« VULCANIA SOAVE 2012 and more (6) | Home | VULCANIA SOAVE 2012 and more (4) »
VULCANIA SOAVE 2012 and more (5)
*  Please read all the previous and next articles about VULCANIA SOAVE 2012, about the SOAVE and  the COLLI EUGANEI regions *
On the very day of the VULCANIA 2012 symposium, wine experts and a handful of international guest speakers developed the 'added value' of the volcanic soil, first in the viticulture, ecology and biodiversity, than in marketing and communications. Of course, Soave oblige, the presentation and discussion were focused on … white wines.
VITICULTURE – BIODIVERSITY – ECOLOGY
As pointed in an earlier message, the presentation held by Diego Tomasi (Viticultural Research Centre in Conegliano) was really impressive and very educative, like the one held by Attilio Scienza (professor of Viticulture at the University of Milan) during the trip to Colli Euganei after the event in Soave.
Soave appears to be not only the biggest but also the oldest Italian wine producing region on volcanic soil. The submarine volcanoes of the Soave region are around 50 million years old. The specificity of such a terroir is that the hot lava flew out of the craters and cooled down nearly immediately in contact with the sea water, giving the well-known basaltic strata and 'organ pipes' types of soil. After the sea withdrawing, a long and slow way of weathering took place and made the Soave soils very rich in organic mineral elements. This type of volcanic soil is officially known as 'paleo-soils', a kind of very old 'fossil' soils.  The combination of this peculiar type of terroir (a mixture of clay, limestone and basalt) with the garganega grape variety is very old, which gives a unique character to the wines, but also a very specific landscape.
Garganega and volcanic soils in Soave – © Consorzio
This should be much better protected and cherished, as part of an inestimable cultural heritage. It is therefore essential to reduce the use of industrial fertilizers, pesticides and herbicides, which are disastrous for the terroir characteristics on long term. Organic or biodynamic viticulture could even enhance the typical terroir characteristics like elegance and minerality, surely when combined with lesser yields, more plough work and a better canopy management. This would upgrade the image and credibility of the Soave wines by enhancing the quality and genuineness of the wines, which will be undoubtedly translated in a higher rewarding, value and profit!
COMMUNICATION – MARKETING
The 'discussion' (actually more a nicely managed talk show to support the whole promotion campaign around the Volcano) was not really convincing. It was quite full of 'clichés' and 'wishful thinking', too much based on what the TRADE says (and sometimes really thinks) but not fully realistic. It is nice to talk about the volcano being an added value in the communication for importers, but what about the CONSUMERS? I missed in the discussion the point that about 80-90% of the wine (and that is absolutely true for Soave regarding the sales volume) is sold in … the supermarket. The rest is just a 'niche' market with thousands of references struggling for a place (even temporary) on a restaurant wine card or in the cellar of a richer wine consumer. In 'value', this is surely a great market, but not in volume.  What I also missed is that within the gross of the consumers buying wine in the supermarket, much more than 50% is a woman! And they seem to buy most of the wine drunk at home in many countries!
A campaign based on 'terroir', 'stones', 'volcano', 'minerality', 'vibrancy' etc will not really make sense to most wine consumers, just because they don't care! And if some posh so-called (wannabe) connoisseurs among the male audience might enjoy using such words widely in family and public, just to impress the audience, what about women? We – men – might think to be doing well regarding 'emancipation', but look at the reality! Women are still combining many more activities than a man; the tasks in housekeeping are not always equally shared, far from that… And a woman goes shopping, as a working woman, a partner, a lover, a mother, a (part-time) housekeeper, mostly a cook too … do you really think she will be paying attention to such promotional language around a 'volcano'? I am not sure about that! Women, as shown in many marketing researches, don't lose so much time while buying wine. They want practical information, not about soil, terroir or whatever… They want to know how the wine tastes like, with which type of food it tastes even better. They want an appealing and directly communicating label, not a boring technical sheet! Of course, there are many women who know much more about wine than the common consumer, and those might be interested by reading about those wines… but not in the supermarket! This whole promotion campaign seems as if it was 'thought' only by men, and not really based on market analysis. I do agree with Richard Baudains (Decanter) that the communication must be much more based on 'what is in the glass'…  Don't write too much about 'terroir' but more about the 'taste' of the wine… Look for the common denominator for Soave wines from volcanic soil and communicate about those taste characteristics.  Monica Larner (Wine Enthusiast) pleaded 'enthusiastically' for 'minerality', because minerality is what makes the real difference between wines all over the world…
That is definitely true for me, but listening to the amount of negative reactions of some well-known British and Dutch wine experts about minerality as wishful thinking and not always linked to the own terroir minerality… I wonder if it will work. I do agree with her, totally, as I don't understand why those wine authorities do accept the 'mineral saltiness' of mineral water but don't accept it for wine. I don't want to expand here on specific items like 'water memory' (see here and here) and the fact that some people seem to be definitely '', but let's say that there are many ways to think about minerality in wine. However, it is true that 'mineral saltiness' in wine can also be caused or enhanced by work on the lees, the use of some ferments and even viticultural techniques, as I have been told. In fact, the mineral saltiness people do taste in wine is not always linked to the soil properties. Communicating on 'minerality' is therefore quite controversial.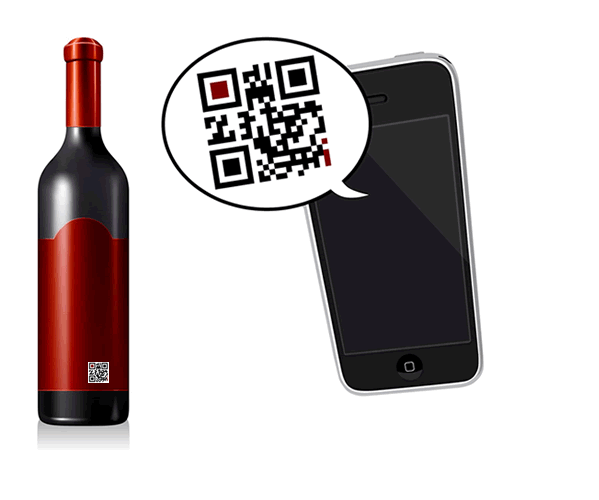 Easy communication, scan the QR-code or click on the picture
So, how to communicate? I would say:
- Clear communication on 'taste' (common denominator of volcanic Soave wines, freshness, elegance, complexity etc.) and 'food matching' (not only fish, chicken or cheese, that's useless).
-  Clear visual communication on wines from volcanic soils; use therefore a common logo on all bottles for wines from volcanic soils…
-  Use a QR-Code with a link to a short video film with the VISUAL highlights of Soave region, for people at home… not for in the shop or supermarket. Works great as reinforcement of customer's relations.
- Use social media (You Tube, FaceBook, Twitter, LinkedIn etc) to communicate… it's cheap, fast and efficient.
A good picture says more than a boring technical speech – © Consorzio
*  Please read all the previous and next articles about VULCANIA SOAVE 2012, about the SOAVE and  the COLLI EUGANEI regions *